Last updated on 8 mars, 2017
Afin de lui rendre hommage, un producteur de Hollywood propose à Chet Baker, le trompettiste de jazz légendaire des années 1960, de tenir le premier rôle dans un long métrage consacré à sa vie. Pendant le tournage, Chet tombe éperdument amoureux de Jane, sa partenaire afro-américaine. Malheureusement, la production est arrêtée le jour où, sur un parking, Chet est passé à tabac. Anéanti, l'artiste se replie sur lui-même, et son passé ravive ses démons. Jane réussit néanmoins à le convaincre d'aller de l'avant, de rester sobre et, grâce à la musique, de regagner la reconnaissance de ses pairs…
Born to be blue est un film très élégant qui rend un hommage délicat à Chet Baker le musicien, prenant soin de ne pas ternir l'homme sans pour autant omettre d'évoquer ses démons. En optant pour le parti-pris de la parenthèse aimante, en choisissant la subtilité plutôt que la démonstration, Robert Budreau livre quelques moments de grâce. Le réalisateur sait où il veut aller, sait de quoi il parle, et avant tout aime son sujet, Chet Baker. Il aime son jazz velouté, cela transpire tout le long du film.
L'ambiance est musicale, le répertoire de Chet Baker constitue la trame qui rythme son ascension, ses succès, ses amours, ses déceptions, ses errances et ses erreurs. Le sujet est trouble, troublé, l'homme fragile, inadapté, victime de lui même et du milieu qui l'entoure. Born to be blue parvient parfaitement à distiller une ambiance vibrante, à saisir les instants, à mettre en lumière les failles, les zones d'ombres, la difficulté de faire les bons choix. Chet Baker a du composer avec une existence qui lui échappait, qui lui a échappé, qui ne pouvait que lui échapper. Ses forces étaient ses faiblesses, et réciproquement. Sa sensibilité d'artiste agaçait comme elle fascinait. Son talent n'était pas celui d'un puriste, d'un technicien, mais bien celui d'un autodidacte déterminé. Sa capacité à remonter la pente quand il est au plus bas, la grande volonté qu'il affiche lorsqu'il a touché le fond n'ont d'égal que la faiblesse qui le pousse en son âme et conscience à replonger vers une abîme certaine.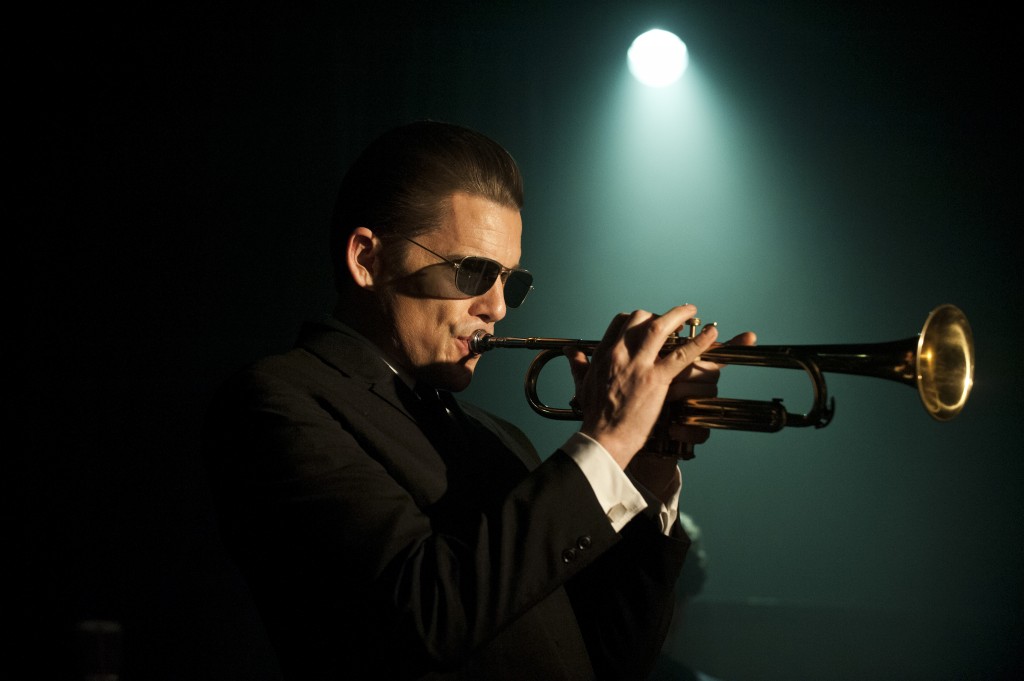 Si Born to be blue fonctionne si impeccablement, si justement, il le doit également au talent d'interprète d' Ethan Hawke, particulièrement investi sur ce rôle. Il se colle au personnage, le fait sien. Il est Chet, il imite son image mais aussi son chant, sa tonalité si particulière, ce souffle si subtil quand il traverse un instrument à vent ou habite sa voix. Le défi qui était proposé à Ethan Hawke et à Robert Budreau était de taille, et nous en saluons le résultat.
https://www.youtube.com/watch?v=j2JAW7L04C0
[amazon_link asins='B00SN5663O' template='ProductCarousel' store='lemagcinema-21′ marketplace='FR' link_id='425a11a5-d90d-11e6-81ad-df7571288b27′]