Last updated on 29 mai, 2016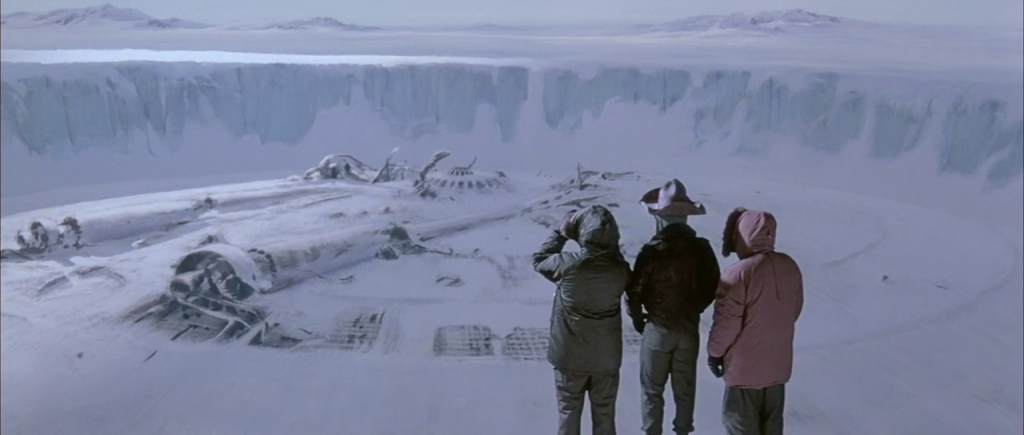 En 1968, la sortie en salles de 2001, l'Odyssée de l'espace (2001 : A Space Odyssey, Stanley Kubrick) marque durablement le cinéma de science-fiction. Le film de Kubrick prouve les possibilités réflexives du genre, transformant l'aventure spatiale de ses héros en une quête existentielle et métaphysique. Dix ans plus tard, l'Alien (1979) de Ridley Scott marque une nouvelle étape dans l'histoire de la science-fiction. L'inventivité visuelle sert et assure l'originalité d'une production créant la rencontre entre univers futuriste et film d'horreur. Le succès du film de Scott crée de nombreux adeptes et les émules d'Alien ne tardent pas à envahir les écrans des salles obscures. Parmi ceux-ci, The Thing (1982) apparait comme le projet le plus intéressant et le plus aboutit. En 1982, son réalisateur, John Carpenter, s'est déjà forgé une solide réputation à l'intérieur du cinéma de genre. Quatre ans plus tôt, Halloween reprenait avec brio les codes du giallo (vue subjective incarnant la vision d'un tueur en série masqué attaquant ses victimes à l'arme blanche) et inaugurait l'ère du slasher qui perdurera tout au long des années quatre-vingt. The Thing , ressorti en salles cette semaine, apparait comme la pierre de touche d'une filmographie certes inégale mais néanmoins singulière.
Tous pour un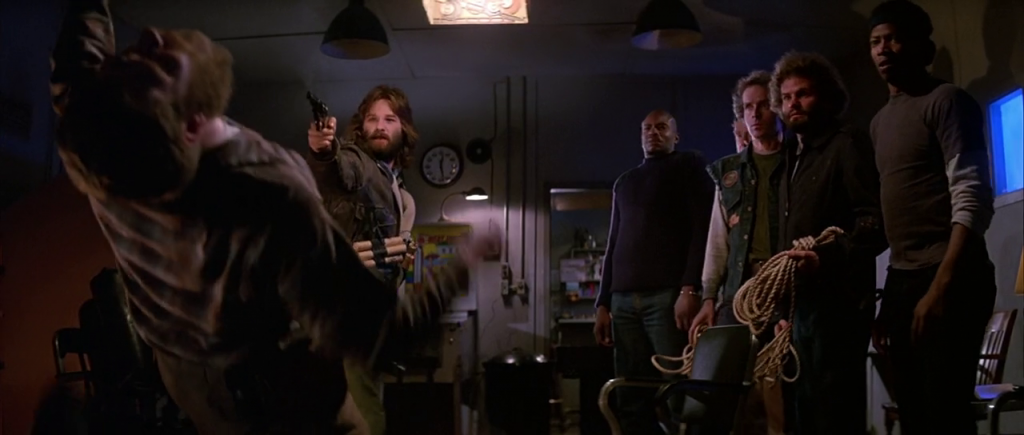 À l'origine de The Thing, il y a La Chose d'un autre monde (The Thing from Another World, 1951) réalisé par Christian Nyby, surtout connu pour être le monteur d'Howard Hawks qui participa à la production et à la réalisation du film. Le caractère dépouillé du film – dont Jacques Lourcelles dans son Dictionnaire du cinéma, a souligné la sobriété, la rigueur et l'austérité « quasi rosselliniennes » – permet à Carpenter de l'enrichir de ses propres thématiques servies par une mise en scène profuse et référentielle. Car, outre l'œuvre matricielle de Nyby et Hawks, la base perdue de The Thing rappelle l'hôtel Overlook de Shining (Stanley Kubrick, 1980), travelling avant en patins à roulettes et portes enfoncées à la hache aidant. L'infiltration organique d'une entité extra-terrestre se réfère sans doute à l'Alien de Scott mais on songe aussi à L'Invasion des profanateurs de sépultures (Invasion of the Body Snatchers, 1956) de Don Siegel. Le film de Carpenter partage avec ce dernier un discours politique prenant pour objet le rapport éminemment américain de l'individu et de la communauté. Problématique, celui-ci profite de l'argument science-fictionnel pour révéler ses failles essentielles. Que faire lorsque l'apparence de son prochain n'est plus certaine ? La réaction ne craint pas les débordements. Pour assurer la cohésion du groupe, un bouc émissaire doit être désigné, l'innocent être sacrifié.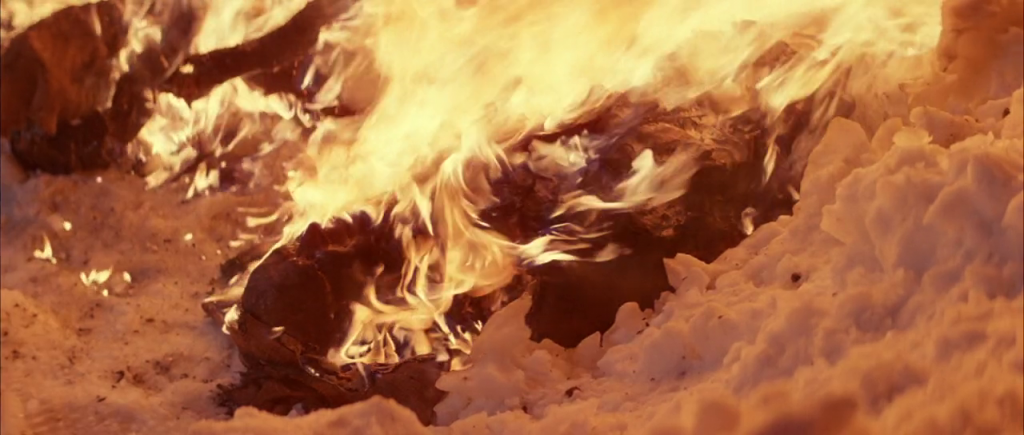 La violence dont fait montre le scénario de Bill Lancaster, adapté de la nouvelle de John W. Campbell, Who Goes There ? (1938), s'apparente à une catharsis existentielle. Les créatures modelées par le talentueux Rob Bottin – déjà engagé par Carpenter pour Fog (The Fog, 1980), notamment connu pour ses collaborations avec Joe Dante et Paul Verhoeven – sont comme des doubles de nous-mêmes, les charniers extra-terrestres renvoyant aux pages obscures de notre Histoire.
Contaminer le plan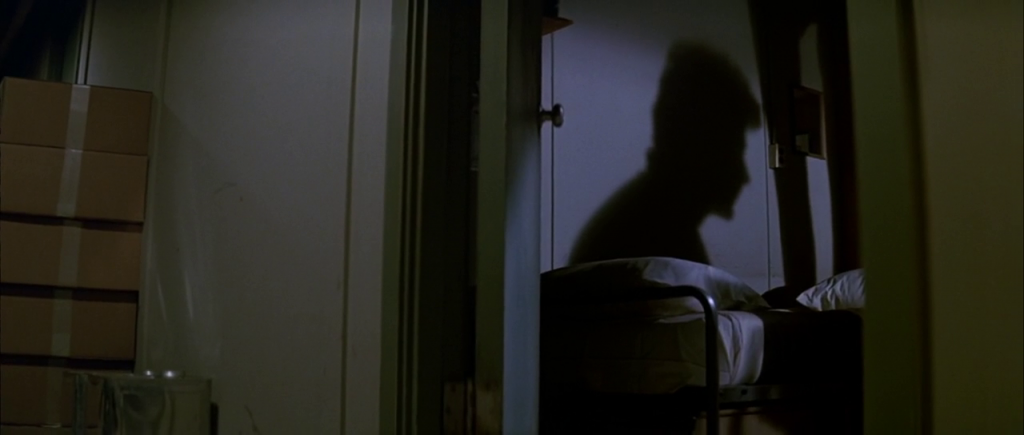 L'intelligence du film de Carpenter est de parvenir à dépasser la dichotomie du champ et du hors-champ, pour (dés)incarner la menace à l'intérieur même de l'image. Si le monstre est bien réel, celui-ci infuse sa présence dans l'invu du plan, entre les lignes de sa composition. D'où l'importance du cadrage et de son orientation. Ce choix implique un retournement de la mise en scène sur elle-même. Il ne s'agit plus seulement de voir mais de sentir les puissances travaillant le corps de l'image.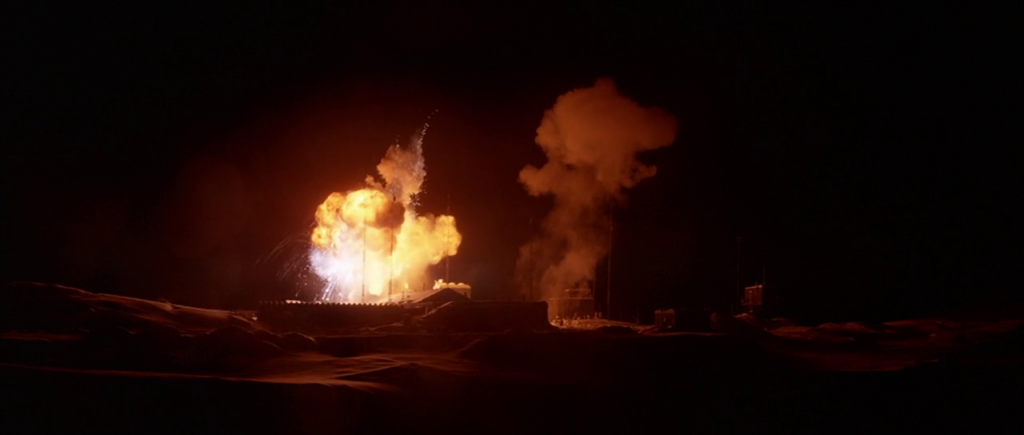 La photographie de Dean Cundney sublime les paysages de l'Antarctique et amplifie l'asphyxie du huis-clos. Celui-ci apparait comme l'espace-temps de prédilection de Carpenter, de la prison de Assault (1976) à l'hôpital psychiatrique de The Ward (2011), permettant quelques jeux scénographiques de haut vol. À l'au-delà du macrocosme spatial se substitue l'en deçà du microcosme humain. Il est ici question de sutures, de raccords internes, d'une ambiance sourde que signalent les compositions d'Ennio Morricone émaillées par les irruptions électroniques de Carpenter et Alan Howarth.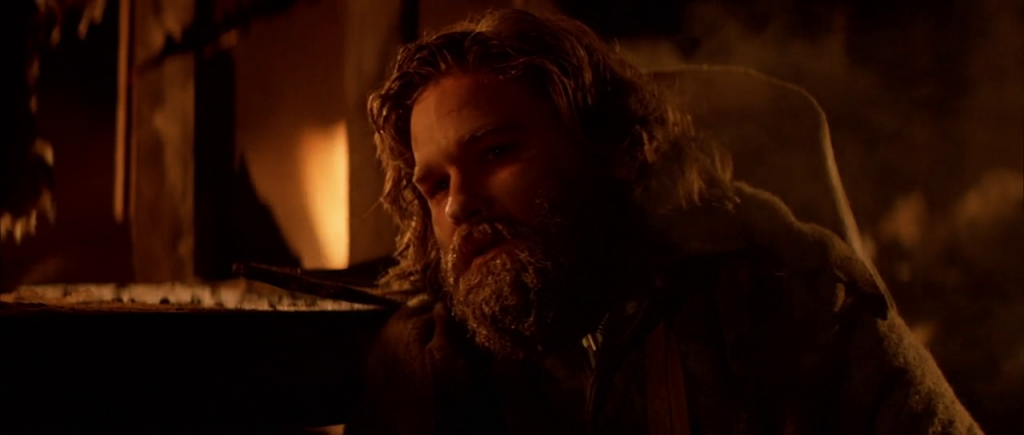 MacReady (Kurt Russell), le héros de The Thing, figure le goût pour l'absolu du cinéaste. C'est par le feu que le Mal sera purifié. Motif chrétien s'il en est auquel Carpenter adjoint une résolution en suspens bien loin de toute morale religieuse. Paradoxe qui fait la force et la singularité d'une œuvre qu'on ne peut que conseiller de (re)découvrir. Quant à celles et ceux qui souhaiteraient approfondir leurs connaissances, mentionnons l'excellent Mythes et Masques : les fantômes de John Carpenter, coécrit par Luc Lagier et Jean-Baptiste Thoret publié en 1998 chez Dreamland.