Last updated on 29 mai, 2016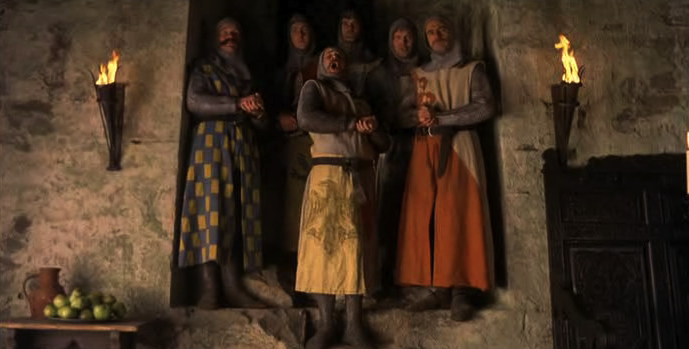 Pour François Truffaut, parler de « cinéma anglais » consiste à opérer une « contradiction dans les termes ». Gageons que la vision de Monty Python : Sacré Graal ! (Monty Python and the Holy Grail) aurait permis au jeune critique de réévaluer son jugement. Réalisée en 1975, cette comédie britannique apparaît comme la pierre de touche des Monty Python, troupe d'humoristes anglo-saxons ayant débuté à la BBC à la fin des années soixante avant de se tourner vers le cinéma. Officiellement réalisé par Terry Gilliam et Terry Jones, Sacré Graal ! profite de l'énergie d'un groupe de six talentueux auteurs – tous crédités au générique comme scénaristes – qui surent faire de l'irrévérence satyrique un mécanisme humoristique implacable. La ressortie en salles cette semaine de ce film à douze mains nous offre une tranche de rire… so british.
Déconstr(u)ire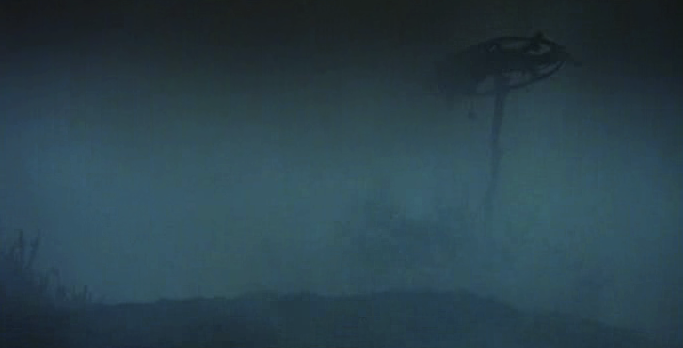 En reprenant l'histoire du Roi Arthur et de sa quête du Graal, la troupe des Monty Python vise le légendaire. Imaginez : une brume épaisse opacifie l'espace, tandis que le bruit d'un cheval se fait entendre au loin. Soudain, une forme se détache du brouillard, celle d'un chevalier en armure accompagné de son écuyer, archétypes de la fable moyenâgeuse auxquels ils manquent… un cheval. L'image révèle l'artifice sonore : le bruit des sabots n'était qu'un leurre, produit par le frottement de deux noix de coco l'une contre l'autre. Cette déconstruction hilarante constitue la force principale de Sacré Graal !, film dont le caractère parodique sert une réflexion sur les principes du langage cinématographique. On le sait, l'un des principaux risques qu'encourt une comédie est de lester l'image au profit du mot, de chercher le meilleur dialogue sans comprendre les principes de la pratique qui en est à l'origine. Le passage par la télévision a permis au Monty Python d'éviter habilement cet écueil. Le format court du sketch oblige à se concentrer sur l'essentiel, c'est-à-dire sur les possibilités du médium. Une série d'images couplée à une bande-sonore, voilà la matière à partir de laquelle le procédé comique pourra prendre forme. La musique épique s'accorde à une représentation peu mythique, le quotidien anachronique s'invite à la table du légendaire, ensemble de contre-points qui déjouent sans cesse l'attendu pour mieux faire apparaître l'absurdité de la situation. On rit doublement face au Sacré Graal ! des Monty Pythons : du gag d'abord, de son mécanisme ensuite.
Une œuvre multidimensionnelle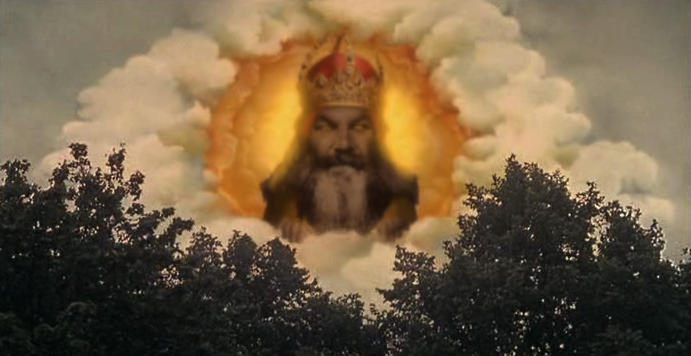 La déconstruction audio-visuelle, envisagée comme procédé comique, structure l'ensemble du film. Fragmentée, découpée en une série de scènes correspondant à autant de frasques chevalières, la syntaxe filmique intègre l'animation à l'intérieur de la prise de vue réelle. Les enluminures prennent vie, participent au flux discontinu de l'action. Œuvre d'art (presque) totale, Sacré Graal ! profite de chaque discipline, multiplicité que permet le travail d'équipe. À l'image de la troupe de chevaliers accompagnant Arthur dans sa quête, les Monty Python mettent leur talent au service d'un objectif bien précis. L'homogénéité prime, résultant d'un éparpillement constant et productif. Paradoxal, Sacré Graal ! envisage la distanciation comme moyen d'amplifier le rire . À bien des égards, l'entreprise des Monty Python se rapproche de celle de Guy Debord. Versant ludique du Situationnisme, le cinéma de ces six talentueux artistes, use du rire comme une arme de réflexivité massive. À la manière du Roi Arthur amputant le chevalier noir de ses quatre membres, les Monty Python désossent leur matériau filmique pour en révéler toutes ses potentialités. Des compositions esthétisantes aux mouvements heurtés d'une caméra portée à l'épaule, le film entreprend une vaste quête visuelle et multidimensionnelle.
La boucle mélodique conclusive ne se rapporte à aucune image sinon à un écran noir qui interpellera forcément le spectateur. À quoi se rapporte le cinéma ? se demandent les Monty Python : à une surface plane sur laquelle s'inscrivent les rêves de chacun, les images les plus folles, les désirs les plus intrépides.

Comédie intellectuelle sans doute, Sacré Graal ! révèle l'envers du décor sans briser son illusion fondatrice. Entreprise périlleuse qui touche au but : le public rit et prend du plaisir. Fondateur, le film n'a jamais cessé d'influencer la comédie contemporaine, il suffit de citer la récente série française Kaamelott (Alexandre Astier, 2005-2009), pour s'en assurer. Sacré Graal ! ou la plus belle contradiction du Septième Art.