Last updated on 29 mai, 2016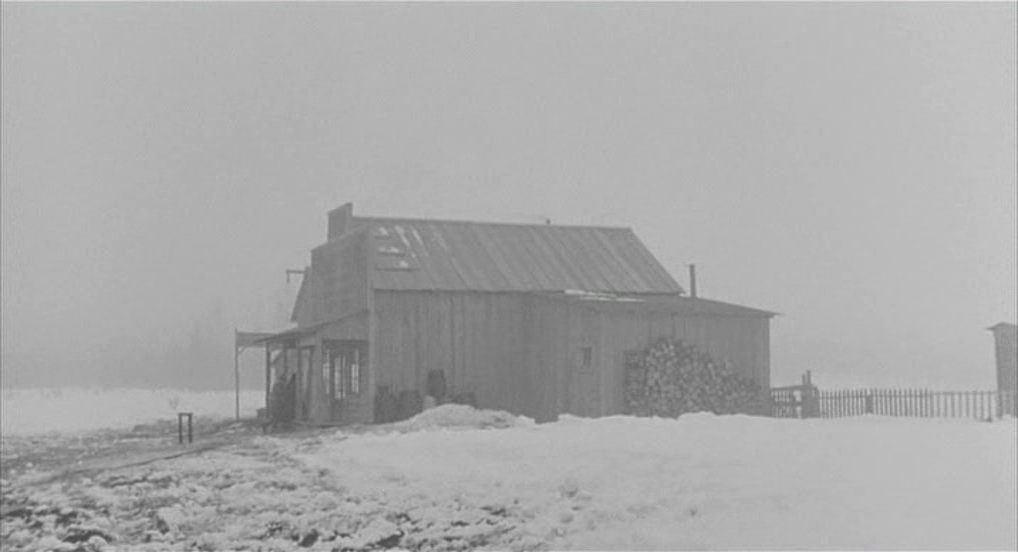 Les Huit Salopards  (The Hateful Eight) qui aura marqué la rentrée 2016 – avant, pensons-nous, la sortie de The Revenant (Alejandro Gonzalez Inarritu) en février – aura permis aux cinéphiles les plus avertis de retrouver les  multiples références émaillant le film de Tarantino. Parmi celles-ci, on aurait pu parier que La Chevauchée des bannis (Day of the Outlaw, 1959), du trop méconnu André de Toth, aurait été oubliée, si une restauration numérique ne l'avait fait reparaître sur nos écrans la semaine dernière. Bonne occasion pour revenir sur cette espèce de chef d'œuvre insolite.
Un art du sous-entendu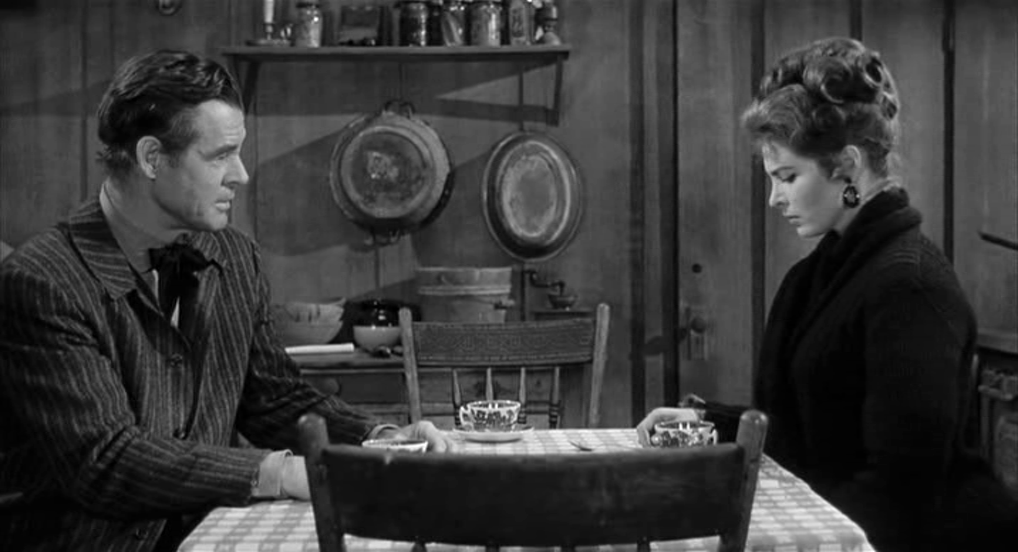 Tout commence par un retour. Blaise Starret (Robert Ryan), éleveur de bétail, revient dans sa communauté du Wyoming pour y retrouver le conflit l'opposant aux fermiers de la région. Lutte économique, mais aussi sentimentale, son amante Helen Crane (Tina Louise) lui ayant préféré un sédentaire. À l'aventure du nomadisme, la jeune femme a donc privilégié le confort matériel et la stabilité émotionnelle. Le conflit prend ici une tournure idéologique, la civilisation toute relative s'opposant à la sauvagerie régénératrice du westerner.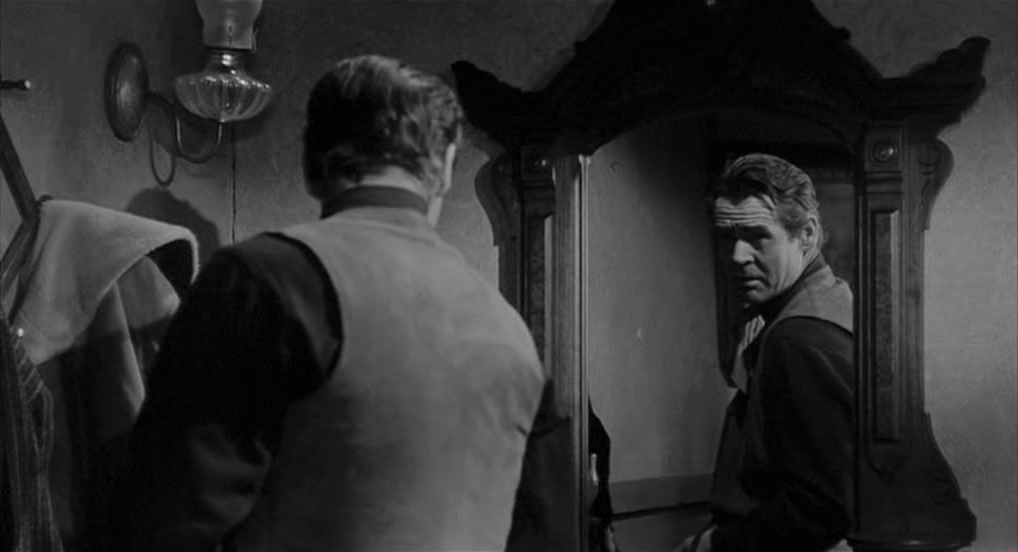 Le film s'ouvre donc sur un univers déjà marqué par le regret et la nostalgie. André De Toth et son scénariste Philip Yordan choisissent une structure narrative déliée et audacieuse, faite de trouées que viendront combler les nombreux silences accompagnant les dialogues des personnages. L'on n'ose prononcer les erreurs du passé, mais les regards échangés traduisent mieux que n'importe quel mot les échecs d'une histoire inachevée. Au spectateur de s'adapter à ce territoire suspendu dans l'espace et le temps.  Les indices parsemés ici et là relèvent principalement d'un art de la mise en scène. La sécheresse du champ-contrechamp s'accompagne d'une certaine ingéniosité dans la position des personnages. Pas de face à face, trope scénographique du genre, mais un curieux jeu de miroir confondant les profils. Marqué par la dualité, chaque caractère souffre le manque de sa moitié. Le visage minéral de Robert Ryan butte face aux réserves de la froide mais néanmoins plantureuse Tina Louise. Cette fêlure intérieure se signale par un comportement distancié et mutique que viendra troubler la physionomie bonhomme de Jack Bruhn (Burl Ives), chef d'une bande de hors-la-loi venue chercher refuge dans le petit village des montagnes.
Une violence sourde
L'arrivée des bandits actualise plutôt qu'elle n'enclenche une violence sensible dès les premiers plans du film. Forcée, celle-ci se déporte pour mieux résoudre les conflits communautaires. La neige immaculée, évidant la photographie de Russell Harlan d'une lumière éblouissante, accueille la présence de figures humaines, petits points noirs perdus dans l'immensité, cherchant à échapper au gris de leurs ambiguïtés. La problématique identitaire prend alors une dimension morale qui travaille de l'intérieur l'attitude des personnages. Blaise renonce à l'amour, Jack, rattrapé par son destin, doit faire face à un dilemme sans véritable enjeu sinon celui d'un temps au cours immuable. Perversités de l'existence.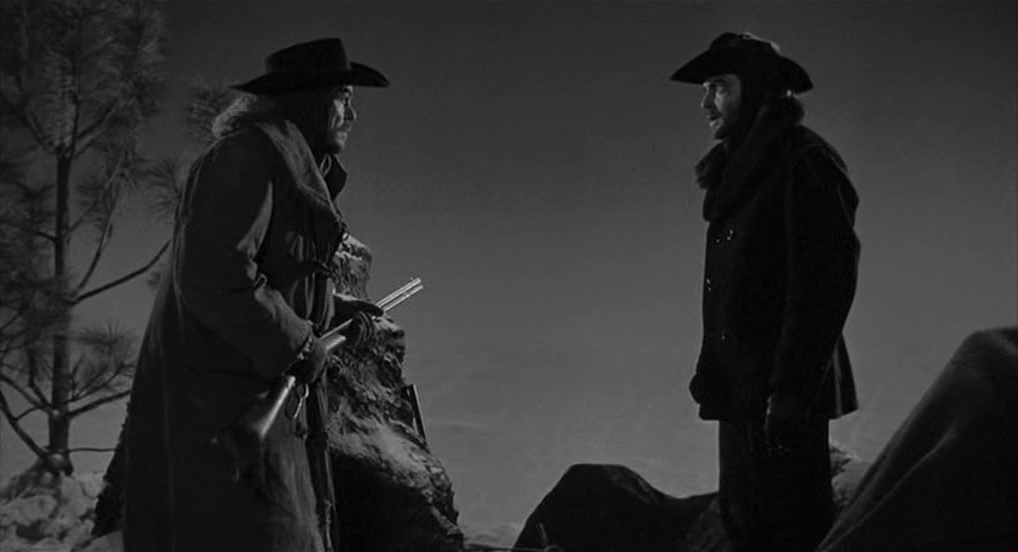 Réalisé en 1959, La Chevauchée des bannis annonce le western crépusculaire des années soixante. Trois ans plus tard, John Ford réalisera L'Homme qui tua Liberty Valance (The Man Who Shot Liberty Valance), point de bascule définitif vers un renouveau du genre. Chez De Toth comme chez Ford un même intérêt pour la petite histoire devenue part intégrante de la grande, un goût semblable pour la déconstruction du type au profit d'une caractérisation plus ambigüe. Produit par la petite « Security Pictures », cette Chevauchée des bannis constitue un chainon marquant de l'histoire du western.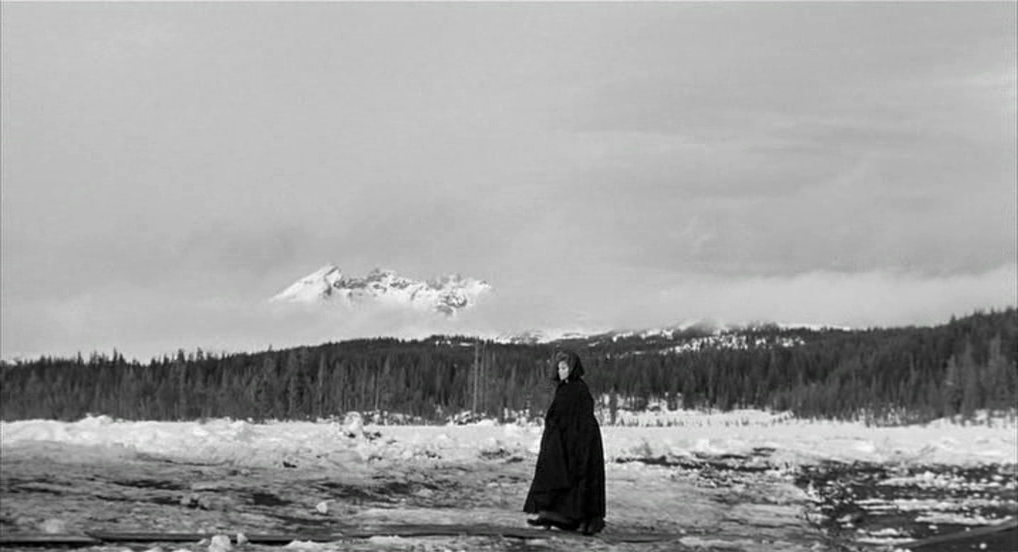 Pour celles et ceux qui auraient raté la ressortie du film en salles, signalons l'excellente édition DVD/Blu-Ray proposée par Wild Side Video dans leur collection « Classic confidentials » comprenant un commentaire audio de De Toth himself, ainsi qu'une fine analyse du film proposée par Betrand Tavernier.