Last updated on 5 février, 2017
Nous attendions avec beaucoup d'impatience The strangers, le nouveau film de Na Hong-jin, qui était présenté Hors Compétition à Cannes – a priori on était même déçu qu'il ne soit pas aux côtés de Park Chan Wook en compétition …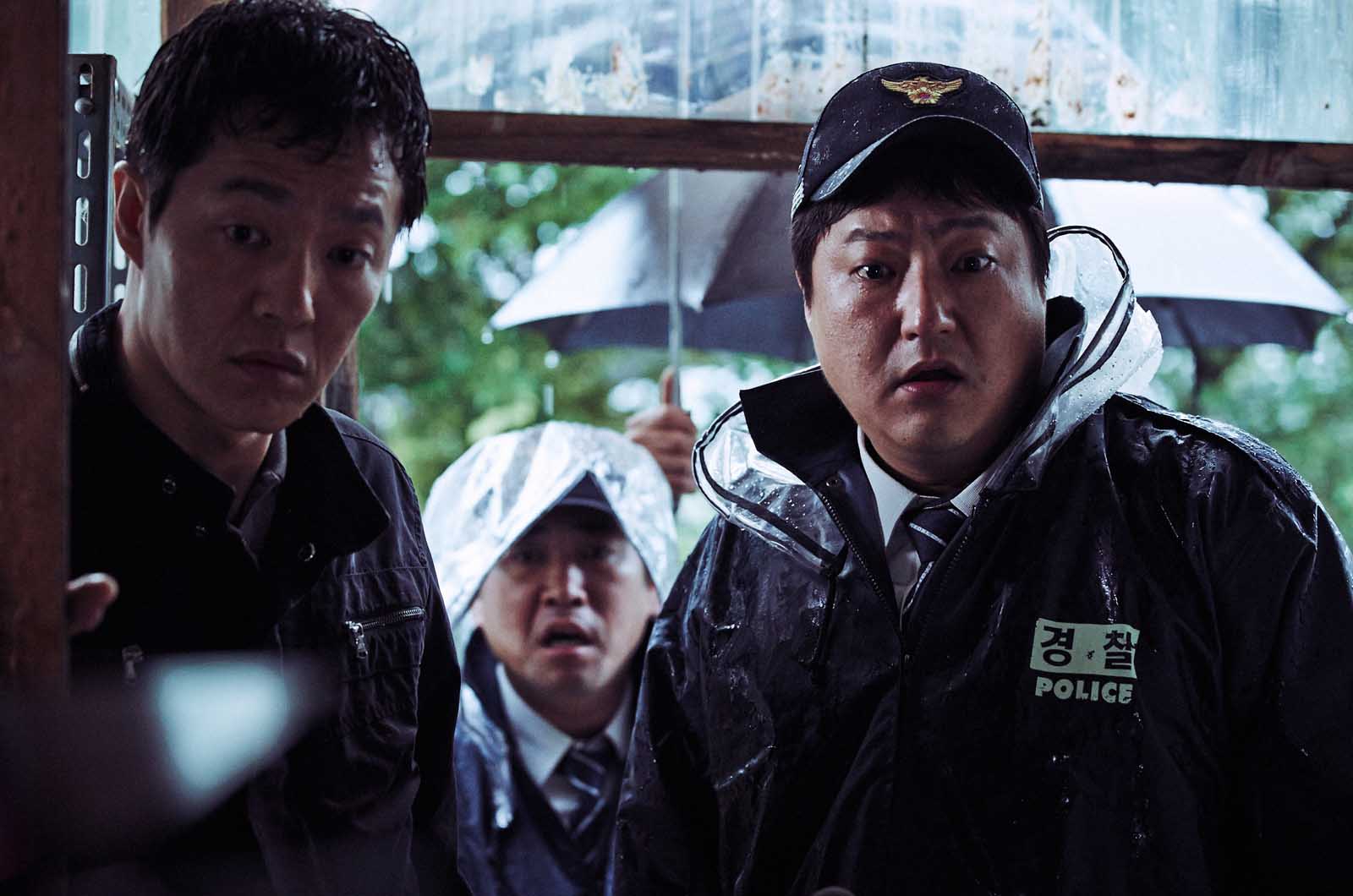 La vie d'un village coréen est bouleversée par une série de meurtres, aussi sauvages qu'inexpliqués, qui frappe au hasard la petite communauté rurale. La présence, récente, d'un vieil étranger qui vit en ermite dans les bois attise rumeurs et superstitions. Face à l'incompétence de la police pour trouver l'assassin ou une explication sensée, certains villageois demandent l'aide d'un chaman. Pour Jong-gu aussi , un policier dont la famille est directement menacée, il est de plus en plus évident que ces crimes ont un fondement surnaturel…
Pour qui ne connaît pas le cinéma de Na Hong-jin, vous rattraper ne sera pas très difficile, et à la lecture des quelques lignes qui suivent, vous devriez en avoir envie. Il est ni plus ni moins que le réalisateur coréen qui en seulement deux films donne à voir ce qui se fait de mieux en thriller coréen, genre à part entière qui a beaucoup, et à juste titre, fait parler de lui.
The Chaser, tout d'abord, est un très bon thriller qui surprend en ce qu'il déplace le suspense, impose une noirceur, son lot de violences et de passages outrés, ironiques ou exagérés pour les besoins du scénario – le coup fatal est par exemple ainsi toujours retardé pour mieux être avorté. L'opposition de style entre le vieux loup (et salaud avant tout) solitaire, Michael Mann like, et la police officielle particulièrement inefficace et dépassée fonctionne à merveille. Le tout avec une image et une mise en scène très adaptée au genre.
Si The Chaser ne suffisait pas, The murderer (yellow sea) reprend les mêmes ingrédients pour proposer un thriller labyrinthique, mais nullement abscons. La raison: entre les scènes d'action très outrées, le sang qui gicle, les combats à la Bruce Lee, les situations plus qu'improbables, le spectateur comprend très rapidement
qu'il est bien au cinéma et que tout ceci est avant tout « tarte à la crème », et avouons le jubilatoire. Au passage, Na Hong-jin, en profite pour remettre une couche quant à la médiocrité des forces policières.
Avec The strangers, Na Hong-jin, reprend les même ingrédients, les fausses pistes, la moquerie de la police, les belles images, l'ambiance tropicale et moite, la violence, l'outrance et s'aventure pourtant dans un récit  bien différent. Il ne s'en cache d'ailleurs aucunement, commettant – selon nous- l'erreur de s'inspirer de récits européens, de les revisiter, et, si besoin en était, de les citer – en l'occurrence L'exorciste et Rosemary's baby, deux chef d'oeuvre incontestables du film fantastique que l'on doit aux maîtres que sont Friedkin et Polanski. Le projet est assurément ambitieux, pour ne pas dire grandiloquent. Na Hong-jin nous donne donc à voir, avec The strangers,  un mélange entre trois cinémas très différents, un qu'il maîtrise, et deux qu'il admire, imite.
Ce qui fait la force de Na Hong-jin dans ses deux premiers films, une grande liberté dans le ton comme sur la forme, l'impatience et la frénésie, une certaine légèreté camouflée derrière une complexification ramifiée, devient malheureusement ici son point faible quand il s'agit de marier plusieurs cinémas en un. L'imitation n'est pas tant affaire d'art, mais de maîtrise, de concentration, de patience, de rigueur et de technicité. L'hommage ne peut se faire qu'au travers de l'imitation, et  tout naturellement Na Hong-jin opte pour ce parti pris: il articule son récit en plusieurs phases, donnant à voir en première partie une version alentie de son cinéma, puis développe dans une seconde partie son hommage. L'œuf, la moutarde, et puis l'huile à remuer lentement. Mais peut être manquait-il le sel ou le vinaigre pour lier le tout. Les ingrédients ne se mélangent pas les uns aux autres avec la fluidité nécessaire, ils semblent même s'annihiler les uns aux autres. Le rythme s'en ressent, le comique ne fonctionne pas, ou plus exactement il produit un contre effet: très difficile pour le spectateur de rentrer dans le récit, d'en apprécier sa ramification ou d'avoir froid dans le dos au contraire, il semble ici que le chemin soit par trop tracé, les ficelles et les rebonds, quand on ne les anticipe pas, nous dérangent plus que nous fascinent. Surtout, Na Hong-jin peine à trouver le rythme juste; il tombe dans le piège que connaissent très bien les jeunes auteurs: A trop en dire, on en dit moins sur ce que l'on veut et sait dire. Mais on vous en laissera juge !