Last updated on 18 juillet, 2015
Alors que NetFlix tente de révolutionner le petit monde des diffuseurs, en cherchant à ce que les films soient disponibles de plus en plus tôt après leur sortie en salle, prônant une diffusion simultanée en salle et via leur service de streaming, alors que la révolution Direct To DVD et direct to DVD est en marche, connaissez-vous le e-cinema, tel que le propose notamment TF1 vidéo ?
Visionner un film chez soi en HD est aujourd'hui entrer dans les habitudes. Le e-cinema autorise de nouvelles opportunités de diffuser très largement et en HD, de nombreux films de qualité qui ne bénéficient pas ou trop furtivement de l'exposition qu'ils méritent. Le nombre de films produits par an est en constante croissance, ce qui a pour effet pervers de réduire la durée d'exploitation des films en salle. La règle est connue et sans concession ni pitié: si un film ne fonctionne pas la première semaine il est tout simplement retirer, au bout d'une semaine. De nombreuses œuvres de qualité manquent ainsi leur cible, le bouche à oreille ne peut se faire en un temps si court, et parfois des réputations erronées – une mauvaise critique, un mauvais buzz-  ont raison de films qui a une autre époque aurait connu un succès d'estime ou populaire.
Aussi l'économie du cinéma est-elle toute entière concernée, bousculée. Certains n'hésitent plus et préfèrent des sorties Direct To DVD: ne vous souvenez-vous pas par exemple de « Welcome To New York« , certes très indigeste, mais qui aurait sans nul doute, à une autre époque rencontrer son public rien qu'aux signatures – Gérard Depardieu, Abel Ferrara -, et sur la curiosité que le sujet pouvait inspirer.
Savez-vous également que très prochainement, un excellent film, avec Kristen Stewart, particulièrement juste comme elle a su l'être dans chacun de ses derniers rôles (Sils Maria, Still Alice) et comme elle pouvait l'être dans The Runaways sortira en DVD sans avoir connu de diffusion en salle ?
Oui Camp X-Ray, renommé en français – maladroitement- The Guard, qui narre une histoire d'amour entre une geôlière et un terroriste présumé emprisonné à Guantanamo, ne sera pas visible en salle. Quelle dommage, car nous qui l'avons vu, pouvons vous dire que ce film est un concentré de finesse et de subtilité, un film particulièrement osé et intrigant.
L'offre e-cinema, au contraire de ce que l'on peut en craindre, pourrait ainsi être une voie alternative qui autoriserait le retour à un cinéma exigeant, et non centré de façon obsessionnelle et industrielle sur la satisfaction des masses, en bref, un instrument de culture. Peut être que des cinéastes tels que Philippe Garrel ou Jacques Doillon ne rencontreraient plus les même difficultés pour monter leur film.
Le principe de l'offre e-cinema que promet par exemple TF1 vidéo est de proposer à l'ensemble des foyers français de grands films en 1ère exclusivité, comme ils peuvent le faire pour les séries US. Aussi le détail de l'offre est la suivante:
À la location, au prix public conseillé de 6,99€ TTC en SD et HD (offre de lancement).
Pour une durée limitée de 5 ours.
Accompagné de bonus complets (présentation inédite du Film par un journaliste cinéma, making-of,
interviews des talents, court métrages, etc).
À la vente (téléchargement dénitif) au prix conseillé de 1,99€ TTC.
Disponible simultanément sur les principales plateformes de VOD françaises (Box FAI, ordinateurs,
tablettes, smartphones, TV et consoles connectées).
Accessible depuis tous les écrans.
Aussi l'une des premières sorties en e-cinema concerne le film ADALINE, un film de Lee Toland Krieger Avec BLAKE LIVELY, HARRISON FORD, MICHIEL HUISMAN, disponible en exclusivité  E-CINÉMA LE 22 MAI 2015 Sur toutes les plateformes VOD, Tablettes, Smartphones, consoles …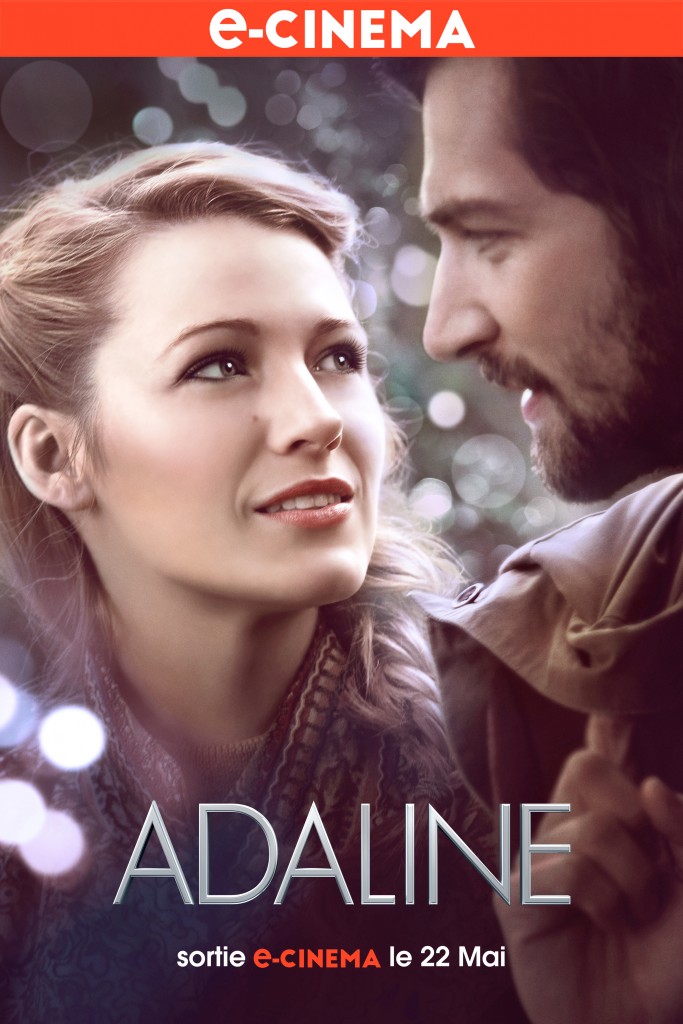 Adaline Bowman, une jeune femme de 29 ans, ne vieillit plus après avoir frôlé la mort dans un accident de voiture. Son existence est bouleversée à tout jamais. Elle traverse le 20ème siècle seule, avant de rencontrer un homme qui changera le cours de sa vie.