Last updated on 12 avril, 2019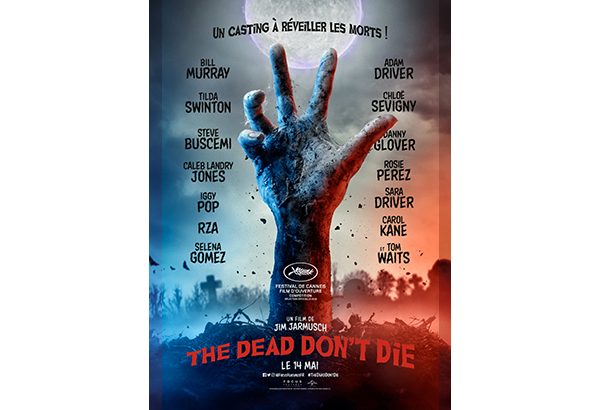 Le festival de cannes cette année, choisit, comme rarement un film en ouverture qui sera en compétition. Et, pour notre plus grand plaisir, il s'agit du dernier Jim Jarmush, The dead don't die, que l'on pressentait (article à venir sur nos pronostics). Voici le communiqué de presse officiel:
The Dead Don't Die, le nouveau film de Jim Jarmusch sera présenté à Cannes en ouverture, en Compétition et en première mondiale. C'est avec la projection en Compétition du nouveau long métrage de Jim Jarmusch, The Dead Don't Die, que s'ouvrira le 72e Festival International du Film. Mardi 14 mai, sur l'écran du Grand Théâtre Lumière, le film du réalisateur et scénariste américain sera le premier à concourir pour la Palme d'or.
Dans la sereine petite ville de Centerville, quelque chose cloche. La lune est omniprésente dans le ciel, la lumière du jour se manifeste à des horaires imprévisibles et les animaux commencent à avoir des comportements inhabituels. Personne ne sait vraiment pourquoi. Les nouvelles sont effrayantes et les scientifiques sont inquiets. Mais personne ne pouvait prévoir l'évènement le plus étrange et dangereux qui allait s'abattre sur Centerville : THE DEAD DON'T DIE – les morts sortent de leurs tombes et s'attaquent sauvagement aux vivants pour s'en nourrir. La bataille pour la survie commence pour les habitants de la ville.
Le casting est allécheant: Bill Murray, Adam Driver, Tilda Swinton, Chloë Sevigny, Steve Buscemi, Danny Glover, Caleb Landry Jones, Rosie Perez, Iggy Pop, Selena Gomez, RZA, Sara Driver, Austin Butler, Luka Sabbat, Eszter Balint, Carol Kane, et Tom Waits.
Il s'agit du treizième long métrage de Jim Jarmusch.
Le film sortira en France le même jour que sa présentation à Cannes le 14 mai en soirée, aux États-Unis le 14 juin 2019 puis dans le monde entier.
La cérémonie d'Ouverture du 72e Festival de Cannes aura lieu le 14 mai 2019. Elle sera retransmise en clair par Canal +, ainsi que dans les salles de cinéma partenaires. L'acteur et réalisateur Edouard Baer en sera le maître de cérémonie.Le Jury de la Compétition présidé par Alejandro González Iñárritu remettra la Palme d'or lors de la cérémonie du Palmarès le samedi 25 mai.La composition de la Sélection officielle sera annoncée le jeudi 18 avril prochain.