Last updated on 21 juillet, 2015
8ème ÉDITION DU FESTIVAL EUROPÉEN DU FILM FANTASTIQUE DE STRASBOURG DU 18 AU 27 SEPTEMBRE 2015
La programmation du 8ème édition du Festival européen du film fantastique de Strasbourg – du 18 au 27 septembre 2015- se dévoile.
Ainsi, The Invitation, dernière réalisation de Karyn Kusama (Girlfight, Jennifer's Body), figurera parmi les films en compétition. Le réalisateur nous convie à un thriller horrifique où un dîner entre anciens amis, réunis dans une villa chic des collines de Los Angeles, prend une sombre tournure.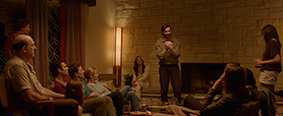 Egalement issu de la scène indépendante américaine, They Look Like People de Perry Blackshear flirte avec la Science Fiction et le film de paranoïa. Le personnage principal est persuadé qu'il est entouré d'aliens malveillants, prenant l'apparence d'êtres humains.
Véritable ovni, Crumbs, de Miguel Llanso, propose une vision d'un monde post-apocalyptique dans lequel des objets de consommation – une bouteille de Coca Cola, un disque de Michael Jackson, … -, deviennent des objets précieux.
Les productions européennes seront très présentes avec, en premier lieu, deux films espagnols. Sweet Home de Rafael Martinez revisite le Home Invasion : un couple est piégé dans un immeuble abandonné quand ils partaient pour un dîner en amoureux.
The Corpse of Ana Fritz (El Cadáver de Anna Fritz) de Hèctor Hernández Vicens, thriller macabre,  se joue habilement du thème de la nécrophilie offrant de nombreux rebondissements.
Dans The Bunker (Der Bunker) de Nikias Chryssos, Pit Bukowski (remarqué l'an dernier dans Der Samurai) interprète un étudiant qui se retrouve dans une famille étrange alors qu'il cherche la quiétude d'une chambre isolée pour ses travaux de recherches scientifiques.
Enfin, dans The Woods, le réalisateur irlandais Corin Hardy, véritable fan de Monster movies à l'ancienne, nous invite dans une forêt hantée par des créatures maléfiques à la recherche de nouveaux nés.
Dans la section Crossovers dédiée au cinéma de genre au sens large, Uncle John de Steven Piet met en scène un homme âgé au-dessus de tout soupçon essayant de dissimuler un meurtre commis au sein d'une petite bourgade du Michigan rural. Dans Applesauce, comédie noire de et avec Onur Tukel, un quadragénaire essaye de découvrir qui lui envoie des membres de corps humains par courrier, tout en démêlant ses problèmes de couple. La France sera aussi présente avec le très attendu Night Fare de Julien Seri (Scorpion), à la croisée des chemins de Taxi Driver et de Maniac Cop.
Les séances de Minuit auront, à nouveau, leur lot habituel de films gores et potaches. Des guêpes tueuses mutantes qui font virer au vinaigre une Garden Party dans Stung de Benni Diez, avec l'inépuisable Lance Henriksen. Ensuite, des métalleux seront aux prises avec une entité maléfique dans Deathgasm de Jason Lei Howden, comédie gore néo-zélandaise, avec des extraits de Skull Fist, Nun's Slaughter et Lair of the Minotaur pour les amateurs. Et enfin, Jordan Galland revisite le film d'exorcisme avec Ava's Possessions dans lequel des personnages ayant été possédés, assistent à des thérapies de groupes.
Deux documentaires avec GTFO (ou Get The F&#% Out) de Shannon Sun-Higginson qui surprendra les spectateurs en mettant en exergue le quotidien des joueuses de jeux vidéo subissant le sexisme des joueurs alors que les femmes représentent 52% des pratiquants. Dans The Visit : An Alien Encounter, le réalisateur danois, Michael Madsen, questionne des scientifiques sur ce qu'il se passerait si un vaisseau extraterrestre se posait sur Terre, en réalisant un film drôle, inquiétant et philosophique à la fois.
Du côté des classiques, la rétrospective Kids in the Dark permettra d'aborder la thématique des enfants dans le fantastique avec neuf films montrant parfois des enfants maléfiques comme Le Village des Damnés (Village of the Damned) de Wolf Rilla, La Mauvaise graine (The Bad Seed) de Melvin LeRoy, La Malédiction (The Omen) de Richard Donner, L'autre (The Other) de Robert Mulligan, Les Innocents (The Innocents) de Jack Clayton ou encore Les Révoltés de l'an 2000 (Quien puede matar a un niño?) de Narcisso Ibanez Serrador. Mais aussi des enfants qui naviguent dans les ténèbres bien souvent à leur insu, avec La Nuit du chasseur (The Night of the Hunter) de Charles Laughton, Sa Majesté des Mouches (Lord of the Flies) de Peter Brook et L'Esprit de la ruche (El espíritu de la colmena) de Victor Erice. Stung Deathgasm